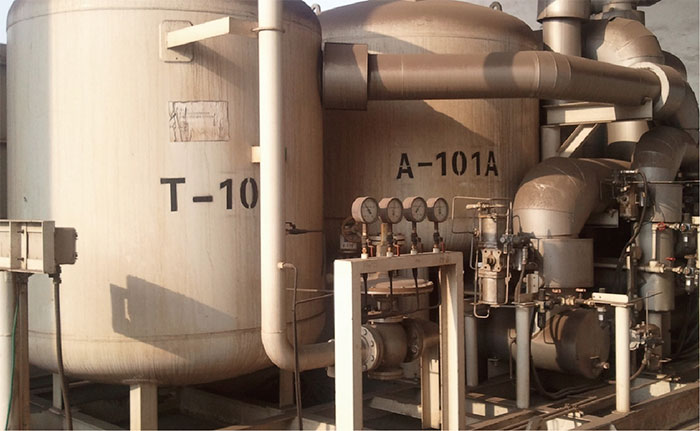 Working principle
The VPSA oxygen device,at room temperature, use the molecular sieve to adsorb nitrogen in the air ,reduce adsorption tower pressure to desorb nitrogen in molecular sieve,so as to realize the Adsorption - desorption cycle operation,continuously produce oxygen (purity 90~95%)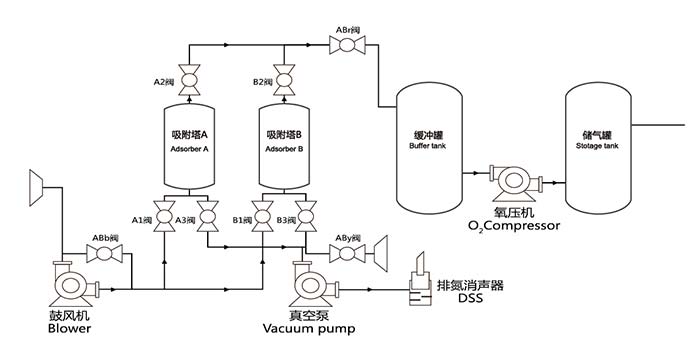 Technical Characteristic
1. The cost of oxygen production is low, and the energy consumption can reach 0.32-0.52 Kw/m3
2.The process is simple, the equipment is less, the automation level is high, the operation is convenient.
3. start quickly, about 5 minutes to provide normal oxygen supply, stop operation is convenient, and the equipment can run intermittently.
4. the equipment work pressure is low, the safety is guaranteed.
5. the product purity and product quantity is easy to adjust, strong adaptability.
technical parameter
| | | | | | | |
| --- | --- | --- | --- | --- | --- | --- |
| Model | Flow | (KPa)Pressure | Purification | Cooling Water | Area | Power |
| LBVPY-100 | 100Nm3/H | 10-20 | 90-93% | 2T/H | 80M2 | 45KW |
| LBVPY-150 | 150Nm3/H | 10-20 | 90-93% | 3T/H | 100M2 | 67.5KW |
| LBVPY-200 | 200Nm3/H | 10-20 | 90-93% | 4T/H | 150M2 | 90KW |
| LBVPY-300 | 300Nm3/H | 10-20 | 90-93% | 6T/H | 200M2 | 135KW |
| LBVPY-400 | 400Nm3/H | 10-20 | 90-93% | 8T/H | 250M2 | 180KW |
| LBVPY-500 | 500Nm3/H | 10-20 | 90-93% | 10T/H | 300M2 | 225KW |
| LBVPY-600 | 600Nm3/H | 10-20 | 90-93% | 12T/H | 300M2 | 270KW |
| LBVPY-700 | 700Nm3/H | 10-20 | 90-93% | 14T/H | 350M2 | 315KW |
| LBVPY-800 | 800Nm3/H | 10-20 | 90-93% | 16T/H | 400M2 | 360KW |
| LBVPY-900 | 900Nm3/H | 10-20 | 90-93% | 18T/H | 450M2 | 405KW |
| LBVPY-1000 | 1000Nm3/H | 10-20 | 90-93% | 20T/H | 500M2 | 450KW |
| LBVPY-1300 | 1300Nm3/H | 10-20 | 90-93% | 26T/H | 600M2 | 585KW |
| LBVPY-1500 | 1500Nm3/H | 10-20 | 90-93% | 30T/H | 700M2 | 675KW |
| LBVPY-2000 | 2000Nm3/H | 10-20 | 90-93% | 40T/H | 900M2 | 900KW |
| LBVPY-2500 | 2500Nm3/H | 10-20 | 90-93% | 50T/H | 120M2 | 1125KW |